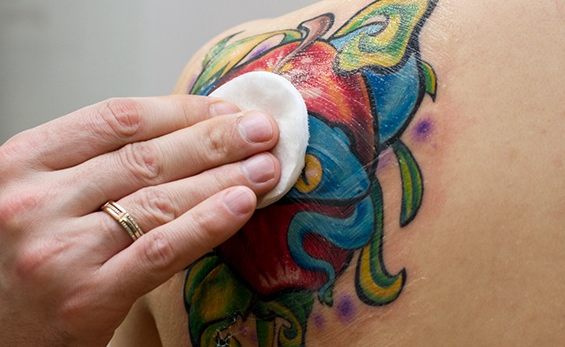 Keep the bandage on for 24 hours. The raw wound is still susceptible to air-borne bacteria and possible infection.
Clean the wound with lukewarm water and liquid antibacterial soap. Do not rub the area. To dry, gently pat with clean paper towel or towel.
Generously apply antibiotic ointment with Vitamin A and D. This will speed up the healing process and keep away infections.
Avoid soaking and tub baths for a least two weeks. Quick showers are advised to help keep the wound clean. Also make sure that regular bath soap, shampoo, and conditioners you're using do not get on the wound.
Stay away from too much sun exposure. Avoid beaches for now. Saunas, steam rooms, and swimming in pools, rivers, and sea are strongly discouraged until the tattoo is completely healed.
Wear loose and comfortable clothes. As much as possible, let the tattooed area uncovered. Also avoid fitting garments that might rub against the tattooed skin.
It will itch. It's a sign that it's healing just fine. But do not scratch. Instead, most Brisbane tattoo artists recommend using mild moisturiser to keep the skin healthy. In case of scabbing, use the warm moist compresses to soften the scab. Do not scratch or peel off.